Single channel plug-and-play gate driver with integrated high voltage DC/DC converter for 4500 V IGBT and IEGT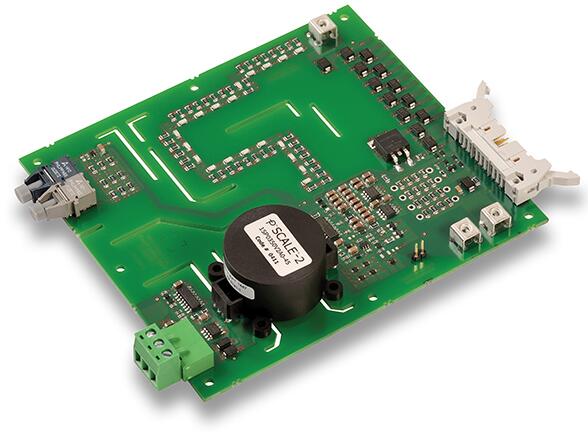 应用概述
主要优势
●Sophisticated digital control algorithm implemented in custom mixed signal ASIC provides an accurate and reliable drive
●Reduced component count-improves MTBF and reduces driver size
●Conformal coating applied during manufacture – enhances environmental robustness
●Easy-to-use – simply connect the gate driver to the module and fiber optic link
●Simple programming option optimizes DC voltage for circuit-breaker applications
产品描述
The 1SP0350V SCALE™-2 single-channel plug-and-play gate driver reliably and safely drives 4500 V Press-Pack IEGT and IGBTs as well as other IEGT and IGBT form factors. It is ideal for high-reliability applications in the HVDC and railway industries.
Based on the SCALE-2 chipset, the 1SP0350 is a highly integrated, high performance, complete and extremely compact single-channel gate driver. The SCALE-2 chipset reduces the component count by 85% compared to conventional solutions - significantly increasing reliability and reducing costs. The driver is equipped with Dynamic Advanced Active Clamping (DAAC), short-circuit protection, a built in DC/DC converter, regulated turn-on gate driving voltage, gate-emitter monitoring and supply voltage monitoring. The plug-and-play capability of the driver allows for immediate operation after connection.
主要特征
●Single-channel gate driver
●Dedicated mixed signal ASIC with digital control
●Compact, plug-and-play solution
●Fiber optic interface
●+15/-10 V gate driving; + 20 V configuration option for circuit breaker applications
●Regulated gate-emitter voltage
●IGBT/IEGT short circuit protection
●Dynamic Advanced Active Clamping (DAAC)
●Built-in isolated and regulated DC/DC converter
●Creepage and clearance according to IEC Standards
●DC/DC overload monitoring
基本电路框图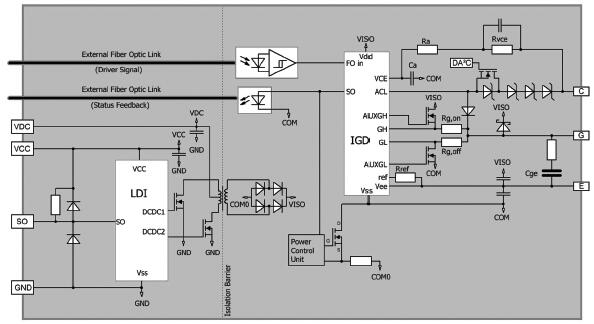 数据手册
* Products that are archived are still available for purchase, but not recommended for new designs.
应用手册